District Registrar: Sue Accorso
Phone: (585) 339-1213
Deputy Registrar: Susan Elliott-Mauro
Phone: (585) 339-1251
Fax: (585) 339-1279
Address:
East Irondequoit Central School District
600 Pardee Road
Rochester, NY 14609
Note: Entrance is located on the Norton Street side of the Laurelton-Pardee Intermediate School Building
Lock Box: Located at entrance 7 outside of Central Office. (The box is located next to the external entrance to the board room).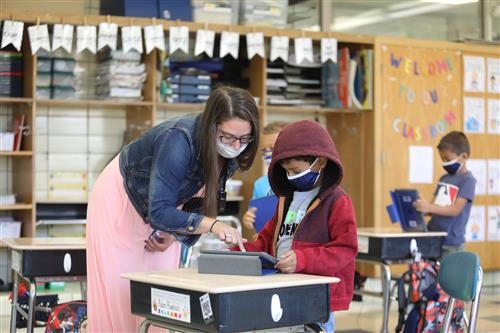 Welcome to the East Irondequoit Central School District!
All students in East Irondequoit will be enrolled through the Registrar's Office prior to attending school in the district. Parents may register their children by providing proof of residency, proof of age, and proof of immunizations.
The registration office is now using an online registration process with fillable forms. This is the safest way to register. The district understands that this may not be an option for all parents/guardians. If you are unable to register on-line, you may complete a hard copy of the registration paperwork and turn it into the district. You may print the forms from our website or you may pick a registration packet up from Central Office. Completed packets need to be returned (along with all required documents) to the district lock box, located at entrance 7 outside of Central Office. (The box is located next to the external entrance to the board room). Please do not submit original documentation; only copies will be accepted. The district's social distancing and masking requirements will be followed in order to ensure the health and safety of all parties involved.
All paperwork will be reviewed by a registrar who will contact the parents/guardians if there are any questions or needs. Please be aware that any outstanding documentation must be submitted and satisfy the district's registration requirements before being considered complete.
Residency – If you are living in a shared-housing living arrangement, you may need to obtain additional documentation. Please contact the registration office for details.
If you find yourself without a fixed, adequate, and regular nighttime residence, you may be eligible for educational services under the McKinney-Vento Act. Please contact Jim Vallone, Homeless Liaison, via email or by phone at (585) 339-1229.
New York State law, regulations, and district policy requires that children attend school where their parent(s) or person(s) in parental relation resides.
Please contact our office should you have any questions regarding the registration process.
We look forward to your participation and involvement in our school community!
New Student Registration Forms
Translated forms are available upon request.
Please include with your registration materials:
Prior year report card

High School Transcript (if available)

Proof of Each Child's Age

Immunization and Health Appraisal (Physical)

Proof of Residency
List of Acceptable Documentation
In addition, we request you provide the following:
Parent/Guardian Photo ID - (ex: Driver's license)

Custody Document (if applicable)

Most Recent Report Card or Year-Ending Report Card (if transferring from another district)

IEP or 504 Plan or Declassification document (if applicable)
Other Helpful Information