The DEA continues to warn communities about the connection of social media and teen drug use as well as the rise of fentanyl laced pills in the United States. As a district we want to be sure families have all the resources to arm our students with the correct information to promote safety. Youth have been known to be easily connected with dealers via various social media platforms and can use easy communication tools like emojis to receive drugs, sometimes even by mail or drop off. The photo below shows commonly used emojis to gain access to drugs and dealers.

For more information, check out this article by the DEA on various social media apps and ways teens can easily access drugs via those platforms Social Media: Understanding a Teen's World | Get Smart About Drugs
In addition to being aware of drug access via social media, it can be helpful to gain knowledge of the rise of fentanyl accessibility. Fentanyl is a synthetic opioid drug that is used to treat pain management that has been known to be added to street drugs due to its high potency properties (Fentanyl (dea.gov). It only takes a few milligrams (a few grains of salt) of fentanyl to become a lethal dose. It's important for families and our community to know about fake pills being created containing fentanyl.
The DEA has warned the United States that...
      "Criminal drug networks are mass-producing fake pills and falsely marketing them as legitimate prescription pills to deceive the American public. Fake prescription pills are easily accessible and often sold on social media and e-commerce platforms, making them available to anyone with a smartphone. Many fake pills are made to look like prescription opioids such as oxycodone (Oxycontin®, Percocet®), hydrocodone (Vicodin®), and alprazolam (Xanax®); or stimulants like amphetamines (Adderall®)".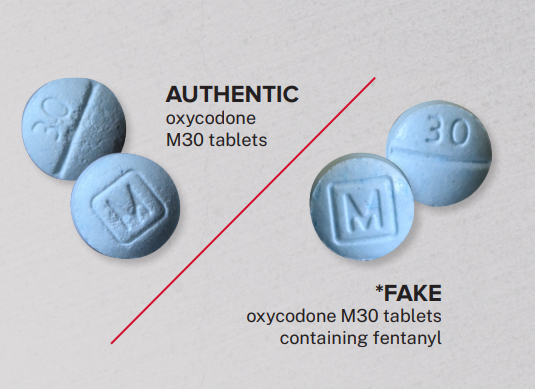 In August of 2022, a DEA press release warned the public of an emerging trend of colorful Fentanyl available across the United States. "Rainbow Fentanyl—Fentanyl pills and powder that come in a variety of bright colors, shapes and sizes—is a deliberate effort by drug traffickers to drive addiction amongst kids and young adults," said DEA Administrator Anne Milgram. For more information, check out the NCADD-RA's spring and fall newsletters below, as well as the DEA's One Pill Can Kill Campaign flyer.
If you are concerned about yourself or a loved one, please use these resources to access support and help. Community referral directories, community awareness campaign materials and much more may be found on the NCADD-RA's website: www.ncadd-ra.org. You can also visit our district website to learn more and connect with our school Drug and Alcohol Counselor Kiah Bowerman. Substance Abuse Information | Eastridge High (thrillshare.com).
Lastly, being trained in Narcan Overdose Prevention can help save a life. Find a local free training here Monroe County, NY - Opioid Overdose Prevention Training (Narcan/Naloxone)